Building an Ethical Organization - DC SHRM March Education Program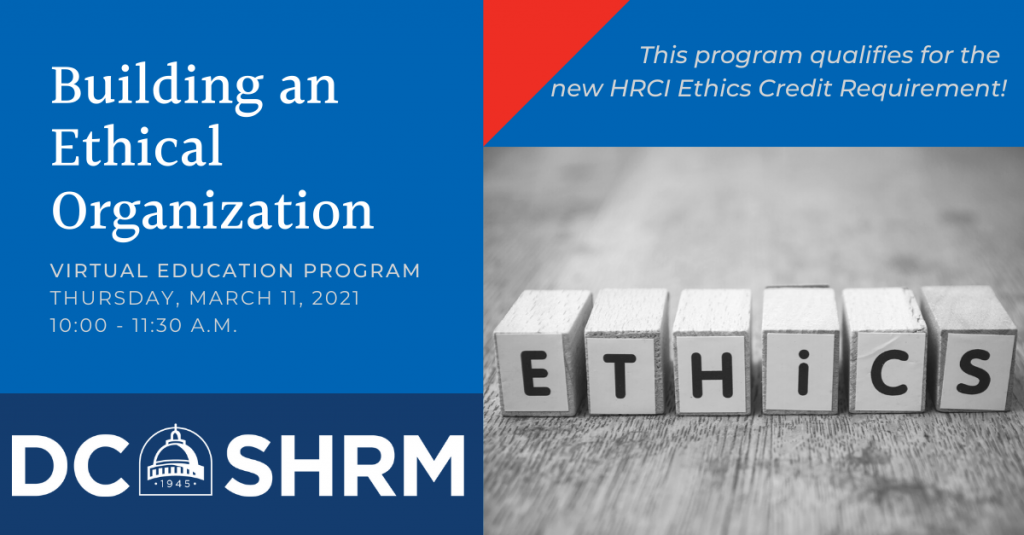 Date/Time
Date(s) - 03/11/2021
10:00 am - 11:30 am
Categories
DC SHRM March Education Program: Building an Ethical Organization
If you were to survey organizational leaders on the importance of ethics, you'd be hard pressed to find anyone who would not put "ethics" in their top 5 of essential values. Why is it then that reports of organizational scandals are as commonplace as videos of cats playing the piano on YouTube?
And when these scandals get into the public eye, it is often the head of HR who receives the mandate (aka chastisement) that, "We need more training on ethics!" Is it that simple? Do organizations just need more ethics training? Or are there other ways to enhance the culture of compliance and ethical behavior in a sustainable manner?
This session will outline the 5 essential elements that organizations can integrate in order to foster a more ethical culture in the organization. Through case studies and proven strategies for enhancing ethics throughout the organization, we will present solid strategies that, if implemented, can help keep your organization out of the negative news cycles.
Due to the interactive nature of this program and utilization of breakout rooms, this session will NOT be recorded. Live attendance is required.
Click here for more details and to register: https://dcshrm.site-ym.com/events/EventDetails.aspx?id=1451115&group=
RECERTIFICATION CREDIT – This program is approved for 1.5 hour of SHRM & HRCI recertification credit.
SPECIAL NOTE – This program qualifies for the new HRCI Ethics Credit requirement.
In this interactive and engaging program, participants will:
Be presented with case study examples and collaborate to develop practical solutions to an ethical dilemma.
Will walk away with tangible strategies to build and promote a more ethical environment in your organization
Develop solid opportunities for networking and sharing best practices.
REGISTRATION FEES: $15 Members | $30 Nonmembers