Best Practices
Apply for 2020 Today!
Click Here to learn about the 2020 awards. Click Here to apply online today. The deadline to apply is Friday, November 20, 2020. Please Contact Us for Best Practices support.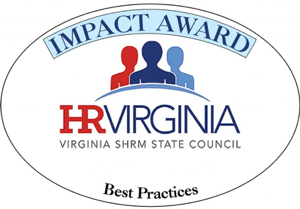 Past Award Winners
Category – Most Improved Membership:
Tie between Fauquier/Culpeper and Peninsula SHRM with total member increase of 29.17%
Category – Most Improved Membership in SHRM:
New River Valley with 115% increase
Category – Professionals:
Peninsula SHRM with their Enhance Programming Initiative
Enhanced programming to attract higher meeting attendance and drive membership.
Category – Advancing HR Profession:
Prince William with their Employment Law and HR Summit
Executive event with over 200 HR professionals networking, collaborating, and receiving continuing education credits in HR Law, DOL policy, and business.
Category – Community Enhancement:
Charlottesville SHRM with their Collaboration in Network2Work Initiative
The partnership between Charlottesville SHRM and the Network2Work Program, part of the Piedmont Virginia Community College's Division of Community Self-Sufficiency Program.