Career is Just as Important as Pay for Employee Retention
What do you think is the number one reason employees leave their jobs? To most people, the answer is relatively obvious: compensation. But the truth is far more complicated.
The Mismatch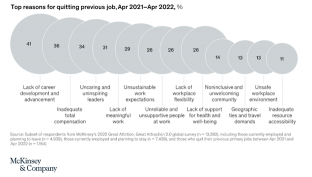 According to a recent McKinsey survey, the real reason employees leave their jobs is for career development. Some of you will rush to say that 'career development' may be a code word for pay raises. After all, promotions come with additional compensation. And it's true, "Inadequate total compensation" is the second most powerful factor for losing valuable talent, but it alone does not drive retention.
Career development is not just about a linear pathway: promotion, pay raise, etc. The truth is that there are multiple types of career development beyond upwards mobility: transferring to a different department (horizontal or diagonal shift); upskilling and becoming the top voice in your profession (expert path), even strategically stepping down to honor other life priorities (downward shift). Career development could span beyond corporate boundaries – one could start their own enterprise or pursue passions beyond the corporate world.
"Lack of career development" is an umbrella term, and, sure, some respondents who marked that option may be exclusively looking for an 'upward' shift. But finding a solution for "lack of meaningful work" may lie in a horizontal shift. And if someone is feeling "unsustainable work expectations", then a downward shift or starting their own business is an entirely plausible solution.
Career development could also not even require something so dramatic – perhaps it simply means taking on more challenging projects, getting access to more company resources, etc.
People associate themselves with their career – a lot. And finding meaning in work, in many cases, could be even more valuable than a bump in pay. Having regular conversations with your employees about what they want out of their career could provide valuable insights into what people really want beyond a pay raise.
Managers Lead Career Conversations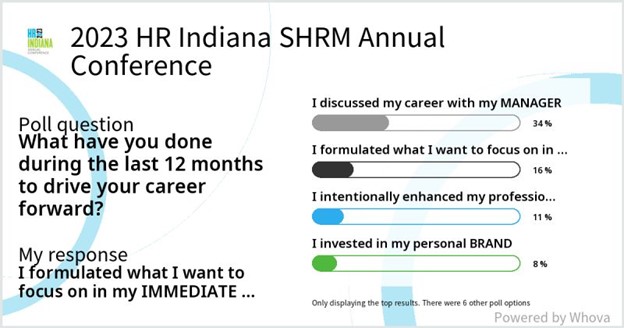 I recently spoke at a SHRM conference in Indiana about career management, and I polled about 250 conference participants about the most significant step they took to advance their career in the previous year. Notice that 'conversations with my manager' was in first place.
A lot of companies shy away from having deliberate career development conversations with their employees. This may be, at least partially, because employers fear that having those conversations would lead to employees choosing to leave the company. After all, if you can't give someone a promotion, then the conversation may be pointless, right?
No. In fact, it's essential to have regular conversations with your employees about their career growth, and it's important to explore the option of leaving the company in those conversations.
Cultivating Talent
Retention is one of the most important challenges handled by business leaders and HR. And that's for a reason. Retaining great people is an extremely nuanced job, and, by defaulting to compensation as a clutch in 'career development' conversations, our industry is trying to fit a square peg through a round hole.
Creating a model where managers have honest conversations with employees about what they want creates transparency, trust, and helps retain talent. It's a win-win for both parties.
About the Author
Anastasia Mizitova, SHRM-SCP
HR Virginia Certification Director