2020 Regulations! What Should Be Included in Your Employee Handbook to be Compliant!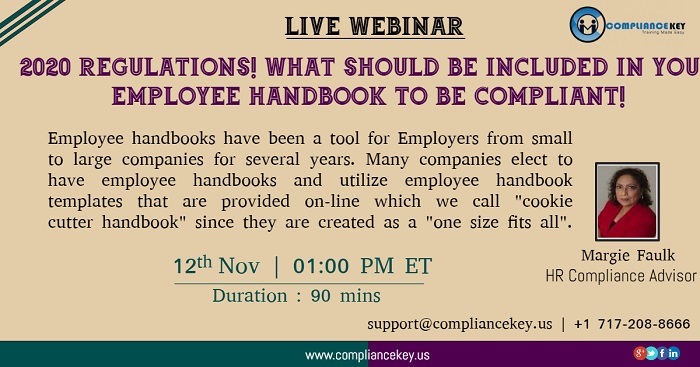 Date/Time
Date(s) - 11/12/2019
1:00 pm - 2:30 pm
Location
Online Webinar
Categories
Topic : 2020 Regulations! What Should Be Included in Your Employee Handbook to be Compliant!
Register : https://www.compliancekey.us/webinarDetails?industryId=3&webinarid=1515&speakerid=170&source=HRV_LN
Discount Coupon : Use This Coupon (NEW2COMPLIANCE) and get (10% Off) On New Signup
Overview
Employee handbooks have been a tool for Employers from small to large companies for several years. Many companies elect to have employee handbooks and utilize employee handbook templates that are provided on-line which we call "cookie cutter handbook" since they are created as a "one size fits all". Unfortunately, employee handbooks can be a huge risk if not updated regularly, adapted to each company, reflect policies that are followed consistently and reflect current regulations. Employee handbooks are also a critical communication tool for employees to understand what the company expects from them as well as what the company expects from employees.
Areas Covered in the Session :
Participants will learn, identify and prepare for employee handbook violations
Participants will be aware of all the new regulations that will impact their company
The course will identify the most common employee handbook violations and how to mitigate them
Learn what five employee handbook policies do more to reduce risk when added to your handbook
New Employee Handbook changes established in June 2018 that help Employers!
Participants will learn which regulatory agency will focus on which regulation and mitigate the risk
Participants will learn what policies will land them in hot water
What policies are "must have" for your employee handbook?
Social media and the impact of penalties when employees choose to speak negatively about their Employer
New paid leave laws and how Employers can manage them
Speaker Profile :
Margie Faulk Keynote Speaker at ComplianceKey. she is a senior level human resources professional with over 14 years of HR management and compliance experience. A former Compliance Officer for a defense contracting technologies firm, Margie has worked as an HR and Compliance advisor for major corporations and small businesses in the small, large, private, public and Non-profit sectors. Margie is bilingual (Spanish) fluent and Bi-cultural.
Contact Info :
Compliance Key
https://www.compliancekey.us
Email : support@compliancekey.us
Phone : +1 717-208-8666