Dulles SHRM Holiday Virtual Wine Tasting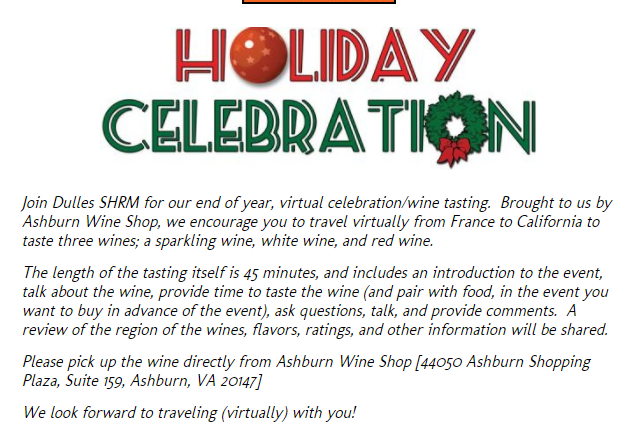 Date/Time
Date(s) - 12/16/2020
5:30 pm - 7:00 pm
Location
Virtual
Categories
Join Dulles SHRM for our end of year, virtual celebration/wine tasting.  Brought to us by Ashburn Wine Shop, we encourage you to travel virtually from France to California to taste three wines; a sparkling wine, white wine, and red wine.
The length of the tasting itself is 45 minutes, and includes an introduction to the event, talk about the wine, provide time to taste the wine (and pair with food, in the event you want to buy in advance of the event), ask questions, talk, and provide comments.  A review of the region of the wines, flavors, ratings, and other information will be shared.
Please pick up the wine directly from Ashburn Wine Shop [44050 Ashburn Shopping Plaza, Suite 159, Ashburn, VA 20147]
We look forward to traveling (virtually) with you!
Hurry, registration ends Wednesday, December 9th 2020!
Register here.