Hampton Roads Regional Workforce Conference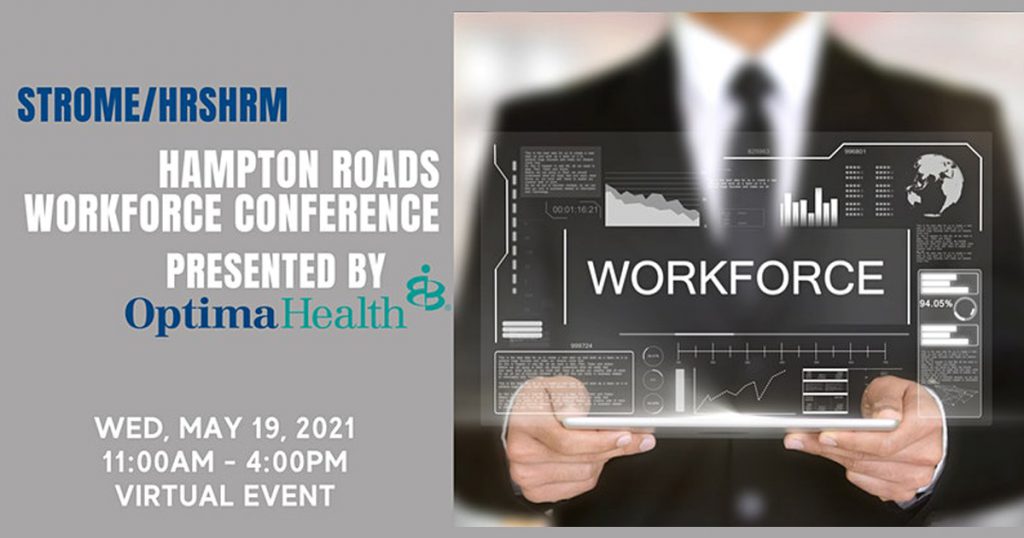 Date/Time
Date(s) - 05/19/2021
11:00 am - 4:00 pm
Categories
Hampton Roads Regional Workforce Conference
presented by Optima Health
hosted by Strome College of Business @ ODU and the Hampton Roads Chapter of SHRM
Tickets: $10
This annual conference summarizes local workforce trends and connects attendees with experts offering insights, recommendations, and advice.
About this Event
The Hampton Roads Regional Workforce Conference is an annual event hosted by the Strome College of Business at Old Dominion University and the Hampton Roads Chapter of SHRM.
Behind the scenes, we've been working diligently to capture regional workforce trends through surveys, interviews, and focus groups. This conference, presented by Optima Health, represents the culmination of these efforts.
Conference highlights include:
A summary of regional workforce trends
An analysis of the effectiveness of different organizational responses to COVID-19
Expert guest speakers offering insights, recommendations, and advice related to the major issues and obstacles uncovered in the regional workforce report
Of course, this conference would not be possible without the input from the community and an amazing cast of partners. We would like to thank our presentation sponsors for their dedication to the Hampton Roads Community:
Optima Health: Presenting Conference Sponsor
ADP: Workforce Survey Sponsor
ODU Online: Presenting Sponsor
Mercer: Keynote Sponsor
**This event is pending approval for SHRM and HRCI for certification credits.