HRSHRM presents Improv in the Workplace: Laughing Your Way To Better Communication & Leadership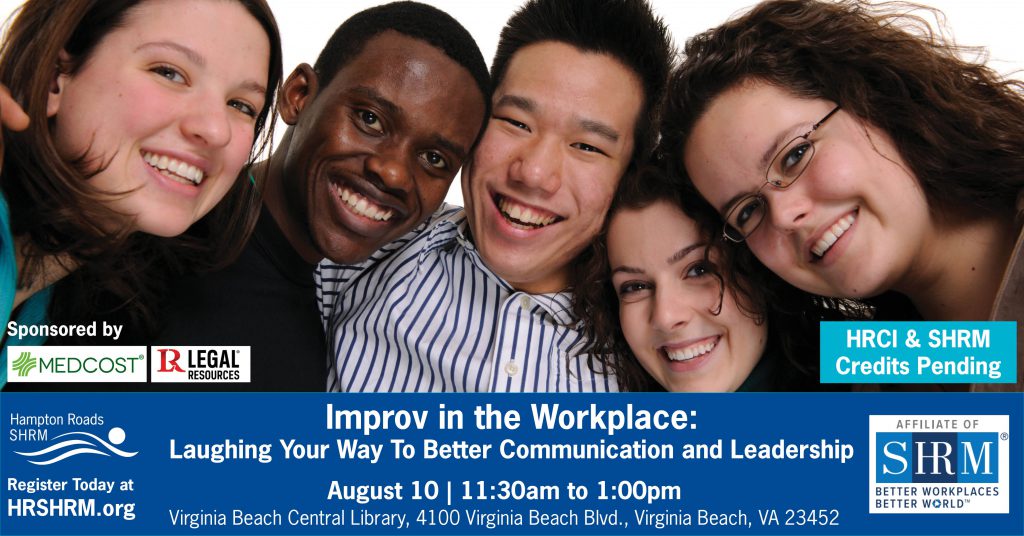 Date/Time
Date(s) - 08/10/2023
11:30 am - 1:00 pm
Location
Virginia Beach Central Library
Categories
Would you rather send an email than directly talk to an employee? If you said yes, you are not alone. A 2016 survey from Harris Poll found 16% of managers are uncomfortable communicating with employees when speaking face to face rather than email. The same survey found that 69% of leaders confessed to being uncomfortable with communicating with in employees in general.
How comfortable are you communicating with your employees when issues and conflict arrive? How often do you recognize employee accomplishments? While 37% of managers struggled with providing direct feedback to employees and 20% struggled with demonstrating vulnerability in front of employees.
Managers not only struggle with addressing issues and conflict in the workplace but even providing positive feedback and recognizing employees. According to the same survey, 20% of managers struggled recognizing employee achievements and 16% struggles with credit others for having good ideas. On the heels of the Great Resignation and development of quite quitting, good communication and better internal leadership is imperative.
Join us for this interactive presentation with Push Comedy Theater in which we learn about the art of improv and how human resources and business leaders can use improv to develop their communication and leadership skills.
Location: Virginia Beach Central Library, Central Folio & Libris Meeting Rooms, 4100 Virginia Beach Blvd., Virginia Beach, VA 23452
Registration: 11:30 a.m.
Luncheon: 11:30 a.m. – Noon
Chapter Meeting: 11:45 a.m.
Presentation: Noon – 1 p.m. (*NOTE: Due to HRCI guidelines lunch will not be available after Noon for attendees.)
Register before August 3, 2023
Members: $35
Not Yet Members: $45
Register after August 3, 2023
Members: $45
Not Yet Members: $55
(You must login to register.)
HRCI and SHRM recertification credits pending.
Learn more and register today at https://www.hrshrm.org/index.php/2023-events/august-10-2023/.